Posted by seedlings on 03/24/2009 10:05
#12
---
Born in 1974 (nearly birthed at a Kansas concert), I'm happily married to my high-school sweetie since we were 19. My wonderful wife is well-balanced, common sense,purse loving, practical, fun, and outspoken, with family time her priority. We have two fab kids, my son the inventor and science fiend and my daugher, the horse rancher and artist. As for me, I'm a music guy, playing the guitar, drums, keys, vocals, bass, whatever. Mostly the guitar at church.
After 10 years of marriage, we opened the wedding gifted Sunbeam coffee maker for the first time and tried some coffee. Didn't like the Flogers much. Tried some Millstone and thought that was ok on occasion. 3 years ago a friend of mine, joetownroaster, introduced me to
www.theroasterie.com
's great air-roasted coffee. Wow! Coffee can taste good! He also heard that one can use a popcorn popper to roast coffee... and I beat him to trying it and overpaid $30 for a Poppery II on eBye! Not that I needed another hobby, but, to quote John Despres, "this is fun."
So, then I heard that some guys roast with a heatgun... so I made this up to get a more hands-free setup:
http://s206.photo...ster-1.flv
Then, after loving the Roasterie's air-roasted coffee and upon seeing the
www.sonofresco.com
I went on a rampage to make a cheaper version, and ended up with this: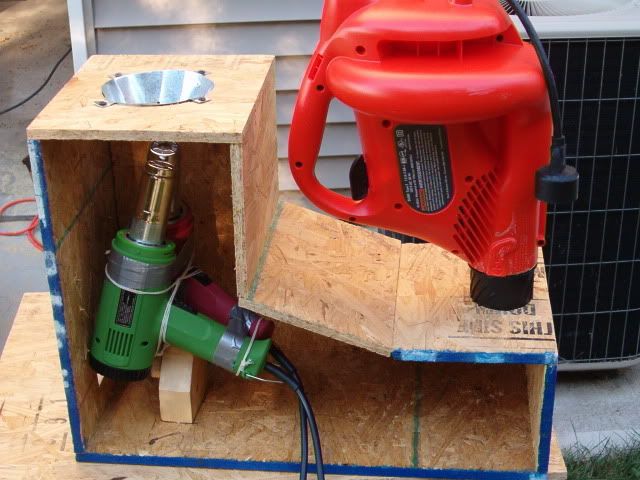 http://video.yaho...66/3428628
But, after a few heatgun failures, I now use the breadmaker and heatgun (a different breadmaker now than what's in this video):
YouTube Video
And I really want to make a new air roaster. I'm trying. Keep watching and you'll eventually see some updates.
CHAD